"It's a real sharing experience, to be in the dark waiting for the light,"says Clare Tuffy, chief of Brú na Bóinne Guest Center in Ireland's Boyne Valley.
A year ago, about 33,000 individuals connected by lottery for section to the Newgrange entry tomb on the mornings encompassing the winter solstice.
Just 60 were picked.
On the days between December 19 and 23, in a tremendous accomplishment of Stone Age designing, a first light sunbeam strikes through the "roofbox" opening over the tomb's passage, at that point crawls along the 19-meter path, to where a quieted gathering of guests stand holding up in the obscurity of the deepest chamber.
For around 17 minutes – climate allowing – the load is overflowed with light.
"There are not very many encounters you can share crosswise over five centuries, with your predecessors," Tuffy reveals to CNN Travel. "5,000 years back, individuals were holding up in precisely the same, for a similar occasion."
Ireland's Old East
Hailed by UNESCO as "Europe's biggest and most vital convergence of ancient megalithic workmanship," the World Legacy Site of Brú na Bóinne lies not as much as a hour's drive north of Dublin, in the core of what the nation's tourism board has named Ireland's Antiquated East.
Here, three substantial entombment hills – Newgrange, Knowth and Dowth – and around 40 satellite section graves lie in the rich, green slopes of Area Meath.
The valley is as rich now as when the landmarks were assembled utilizing devices of stone, bone and wood by a cultivating group in 3,200 BCE, somewhere in the range of 500 years before the colossal pyramids of Giza.
Newgrange is the most popular.
This grass-secured, quartz-ringed protuberance, somewhere in the range of 86 meters crosswise over and 13.5 meters high, covers a section of land of land. Its smooth outside gives a false representation of the strange concealed chambers inside; just a part are interested in general society.
Eternal house of the dead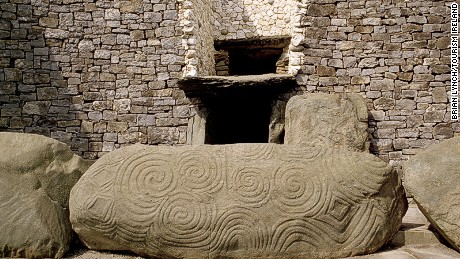 After the Stone Age